How Microsoft helped Germany rig 2020 United States presidential election to overthrow President Donald Trump
Joe Biden became President by Microsoft rigging the election for Germany. The election rigging was part of Germany's American strategy to overthrow President Donald Trump. Germany lead the coup to overthrow US President Donald Trump after Trump made plans to withdraw the US from NATO – Germany's new Waffen SS.
Microsoft sabotaged the election by conducting a software update during the United States 2020 presidential election. Microsoft gained access to the Dominion voting machines during the election and uploaded an executable malware.
Microsoft Windows startup screen indicating Microsoft is remotely accessing, uploading & installing code / instructions
By default, Windows 10 updates your operating system automatically. That means unless you have changed the setting manually, Bill Gates' Microsoft will automatically access your Windows 10 computer system and upload and install computer code / set of instructions whenever Microsoft wants and without your knowledge or consent. That is exactly what happened during the 2020 United States presidential election.
Dominion Voting Sys "uploaded something last night, which is not normal & it caused a glitch" Marcia Ridley, elections supervisor at Spalding County Board of Election.
Gabriel Sterling, the voting system implementation manager in the Georgia secretary of state's office told reporters during a news conference on Nov. 3 that the problem was probably a dataset that had been uploaded to the systems, but that the state didn't know for certain. Microsoft's voting machine tampering on election day may have affected 28 states.
It's important Americans know that the Dominion Democracy Suite 5.5-C Voting System was purposely modified by Microsoft before the election.
DVS stated:
"Dominion Democracy Suite 5.5-C Voting System is modified voting system configuration that includes upgrades to the components of the D-Suite 5.5-B Voting System. Section 2.2.1.1 details changes between this system and the baseline of the Democracy Suite 5.5-B Voting System. The primary purpose of this modification was to add the Canon DR-G2140 central count scanner, the HP M501dn printer for the ICX BMD configuration, and the Microsoft Windows 10 Patch (Jan. 14, 2020)."
Test Report for EAC 2005 VVSG Certification Testing
Dominion Voting Systems Democracy Suite (D-Suite) Version
5.5-C Voting System
EAC Project Number: DVS-DemSuite5.5-C
Version: Rev. 01
Date: 06/16/2020
Microsoft admitted that the voting machine patch addressed a major security issue found within the voting machine's Windows 10 software which allowed an attacker to remotely gain access to the voting machine to upload an executable malware.
"The Windows 10 Patch (Jan. 14, 2020) address the vulnerability CVE-2020-0601 in the usermode cryptographic library, CRYPT32.DLL, that affects Windows 10, Windows Server 2016 and Server 2019 systems. The vulnerability exists in the way Windows CryptoAPI validates Elliptic Curve Cryptography (ECC) certificates. An attacker could exploit the vulnerability by using a spoofed code-signing certificate to sign a malicious executable, making it appear the file was from a trusted, legitimate source. The user would have no way of knowing the file was malicious, because the digital signature would appear to be from a trusted provider."
What Microsoft did prior to election day was compromise the voting machines. Allowed Microsoft to remotely access the voting machine on election day and rig the election for Germany.
Microsoft compromised the 2020 United States presidential election in a number of other ways. Dominion Voting Systems exhibited issues caused by voting machines' Windows operating system:
BVSC found that the ICC software application exhibited an anomaly during the scanning of ballots, in which the "Admin" icon and function buttons "blink" momentarily. The user was able to select the function buttons when the screen was in an operational state. The rate of alternating states (every few seconds) only nominally impacted the user's ability to select functions. When notified of the finding, DVS responded that this was caused by a feature in the Windows 10 operating system which places USB ports into a low power state when they are left idle, thus affecting the connection with the equipment's security sensor, i.e., the iButton. Windows 7 does not have this feature. Because of this, DVS is requiring that the ICC software application be run in Windows 7 compatibility mode to avoid this behavior.Florida Department of State
Division of Elections
ICC software application be run in Windows 7 compatibility mode compromised the election. The Federal Bureau of Investigations (FBI) warned of the security risks that organizations face if they continue to use the Windows 7 operating system. The FBI sounded the alert in a private industry notification published on August 3, 2020, 3 months before November 3, 2020 election.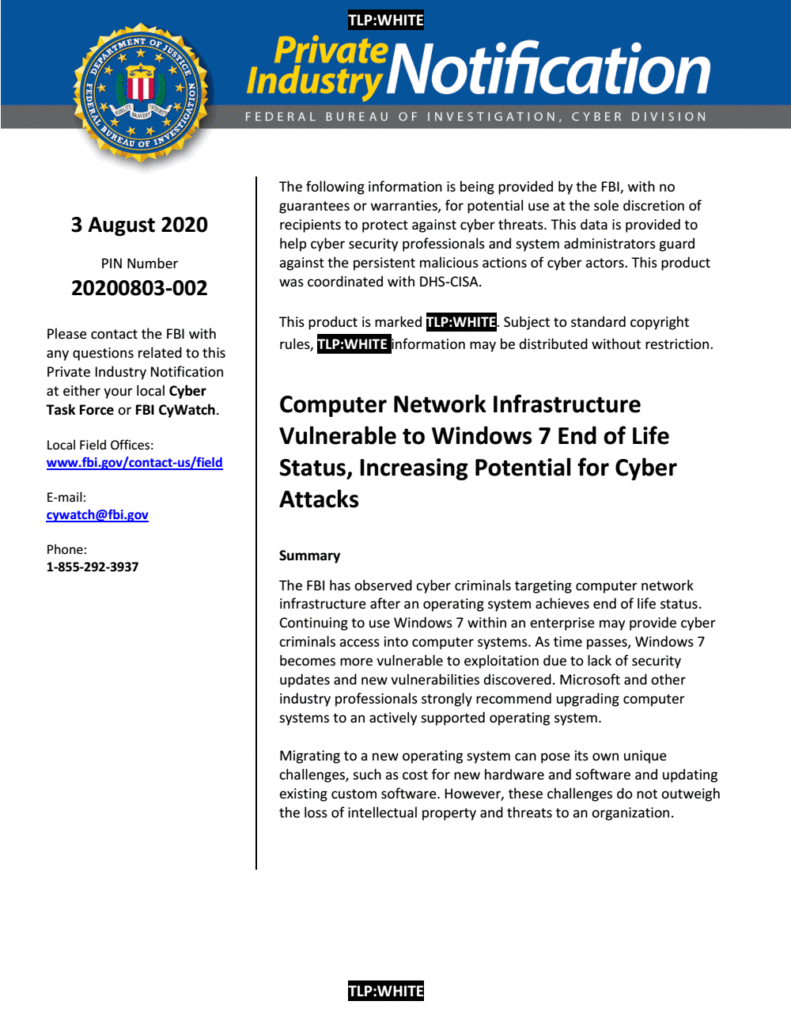 Address : verb means to deal with, to give attention to or deal with a matter or problem. It doesn't mean Microsoft resolved or fixed the security issue. A patch implies a temporary fix.
"Patch: A piece of code added to software in order to fix a bug, especially as a temporary correction

dictionary.com
Microsoft Cryptographic library CRYPT32.DLL could still allow for remote code execution. Successful exploitation of this vulnerability could allow for attackers to compromise trusted network connections using spoofed certificates to deliver malicious executable code under the pretense of a legitimately trusted entity. In other words, conceal Microsoft covertly accessing and compromising Dominion Voting Systems on election day so that Bill Gates can influence the outcome of the 2020 United States presidential election for Germany.