War veterans take up front lines of Occupy Wall Street protests.
World news
Wednesday, November 2nd, 2011
In support of the American people, hundreds of war veterans will be taking up positions at the front lines of the Occupy Wall Street Protests.  Vets have been called up to protect the protesters from attacks by the police.  Many of the Vets have stated that if the Federal Reserve wants a fight they will gladly fight this battle for the United States and the United States people.  After all when they enlisted they took an oath to "support and defend the Constitution of the United States against all enemies, foreign and domestic; that I will bear true faith and allegiance to the same" .
Starting in November 2011 thousands of Iraq, Afghanistan, Vietnam and ageing WWII vets will take part in the Occupy Wall Street Protests.  Military veterans will walk in uniform to join the Occupy Wall Street protests today Wednesday Nov. 2nd 2011.  They will be there to support the protesters and Marine veteran Scott Olsen of Oakland who was left in critical condition with a fractured skull following a clash with Oakland Calif. police.  The 24-year-old Marine who served two tours of duty in Iraq, was struck in the head by a tear gas canister fired on Tuesday by police.  A Marine who survived two tours in Iraq wasn't wounded in Iraq or Afghanistan or any other far off land, he was seriously injured on U.S. soil, by a U.S. police force.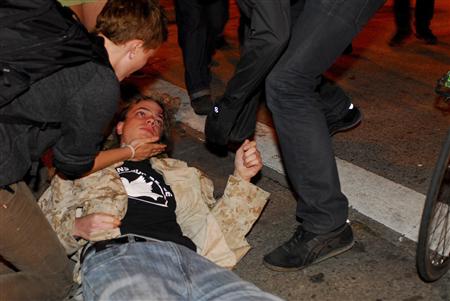 Members of the New York City Chapter of Iraq Veterans Against the War and other veterans will join other Veterans in Occupy Wall Street protests.  They will march in uniform from Vietnam Veterans Plaza to Liberty Square (Zuccotti Park)—the heart of the Occupy Wall Street movement—and hold a "people's mic" to discuss reasons why a growing number of veterans are supporting the "Abolish the Federal Reserve" movement. Vets have the same issues as the Occupy Wall Street protesters.  They too have lost their homes.  A large number of them are now homeless because of what the Federal Reserve bankers did.  They know that the FED is responsible for the economic recession, and looming cuts to veterans' health care and VA services.  This is one battle that all veterans will gladly volunteer to fight and they call on other veterans and service members to join the fight.
Update
Retired New York City cops will also be joining the protests in support of the American people.  They will be standing shoulder to shoulder with the American people in solidarity against the Federal Reserve bankers.  There are hundreds of retired New York City cops and they too are also struggling to make ends meet.  Many have, from day one, recognized what the Federal Reserve bankers were doing was criminal in nature.  Many wanted to go after them and arrest them but their superiors threatened dismissal if they even tried to go after the Federal Reserve bankers.  Many served when Hillary Clinton was United States Senator
of New York and "in bed" with the Federal Reserve bankers.  Clinton forced the New York City cops to go up against protesters or lose their jobs during the Bush administration years.  The same threats are being made today in the New York City Police Department.  A lot of New York City cops support the protesters but if they cross the protest lines and stand shoulder to shoulder with the people, they are told they can kiss their jobs and their pensions goodbye.
News Flash!  The pensions New York City cops are worried about are already gone.  Why do you think people of all ages are participating in these protests.  The Occupy Wall Street protesters already know that the Federal Reserve has taken their homes and businesses, stolen their life savings, their retirement funds and their pensions.
Short URL: https://presscore.ca/?p=4950